Endometriosis in Teens and Adolescents | Dr Iris Orbuch | LA
Endometriosis is common in adolescents, especially in those who have a history of painful periods and pelvic pain. Their pain can be either cyclical or non-cyclical.  Other symptoms include painful bowel movements, constipation, intestinal cramps, bladder pain. Teenagers who are already sexually active may report painful sex.
Both early, superficial endometriosis as well as advanced endometriosis are found in adolescents. Many articles have reported that 60% to 70% of teenagers who do not respond to medical treatment for painful periods have endometriosis at the time of laparoscopy.
Many times endometriosis symptoms do improve with nonsteroidal anti-inflammatory (NSAIDs) and/or the birth control pill. However, it is important to remember that endometriosis may progress while the symptoms are masked.
The laparoscopic findings of endometriosis in adolescents or teenagers are different than an adult. Dr Orbuch understands that most lesions in teens or adolescents tend to be clear or red.  The use of the robotic camera with its 3-D high definition magnification allows for better viewing of these clear and red lesions found in younger patients. So better visualization of these early lesions allows for better surgical excision and outcome.
Dr. Orbuch offers support and compassion in dealing with adolescents. Dr. Orbuch has two daughters of her own and can relate beautifully to teenagers and adolescents, which is why many gynecologists refer their teen patients to Dr. Orbuch.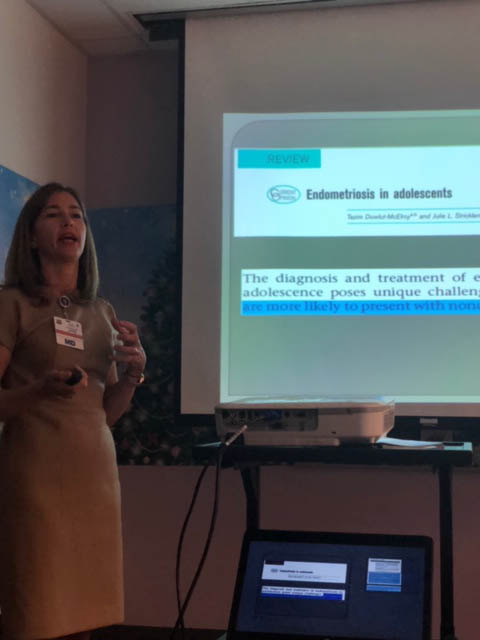 Dr Iris Kerin Orbuch delivering Grand Rounds to the Department of Pediatrics at St Johns hospital on 'Teen and Adolescent Endometriosis'
PHONE: (310) 850 0051         OFFICE: 436 North Bedford Dr​.,​ Suite 308​,​ Beverly Hills, CA 90210
​